Discussion Starter
·
#1
·
Yesterday will forever be known as "Black Saturday" in relation to my 14hr, 200mile journey (the last part of which was completed on a recovery lorry.)
I left home at about 0930hrs with a full and preconditioned battery in the 2020 Jaguar iPace. In theory I could make the 200mile round trip (permitted under lockdown, BTW) without charge, but I knew this wouldn't be achievable given the majority being on motorways and with a cold, fully-laden car on the return leg. Accordingly I had checked ZapMap and five chargers I've used before were all available and working. My intention was a quick charge to get me home, where I'd charge as usual, in readiness for work on tuesday.
I've done lots of long journeys needing DC rapid charging and have never had a problem. I only needed a few hours at my destination and so I assumed I'd easily be home for an 8pm Zoom Wine-tasting event my sisters and I had booked for my parents wedding anniversary...
My first charger option was an Ecotricity unit (I know, I know) using CCS which seemed to work fine but then cut out, saying it had a fault and an engineer had been notified. Resetting made no difference.
I was unperturbed because, well, it's Ecotrishitty (as the late Sean Connery would have said), and I had plenty of Plan B, C, D options.
My next charger was also Ecotricity but I'd forgotten it had no CCS so baled-out and headed for a BP Pulse (formerly Polar, at Coldra Court Hotel) which I've used several times without bother.
Disappointingly, when I arrived it said it couldn't take contactless payments; members only using RFID card/fob.
I got the same message at the next BP Pulse (Travel Lodge).
Plan D, I headed to the shiny, "new" BP Pulse 150kW units on Malpas Rd near Newport, which ZapMap reported as working. I had several attempts on each, using contactless on both card and iWatch. The machines made all the right noises and displayed a % progress bar but then cut out without delivering charge each time.
Several attempts later I got a text message from Lloyd's bank saying my card was suspended until I responded, due to repeated pre-authorisation payments. I responded and got a message back to say I could re-attempt the payment in 10mins, which I did. Again, no charge delivered.
A helpful chap in an iPace arrived (he lived locally and also works for JLR, ironically). He tried his BP/Polar RFID fob for me but that didn't work either. The BP garage staff said they'd log a problem for me and the machines would be reset. I gave up after 30min of no reset. Afterall, there were several more options ahead on my route, one of which was trusty Instavolt.
Next stop was another Ecotricity (again, one I've used, and which was reportedly OK in ZapMap).
I was fully expecting it to fail, and indeed multiple attempts confirmed this expectation. I wasn't expecting the car to give a flashing red warning on the dash, as pictured, after the fifth or sixth attempt to charge (on each occasion, the process seemed to be working until a "session finished by vehicle/operator" message appeared, and no charge delivered.)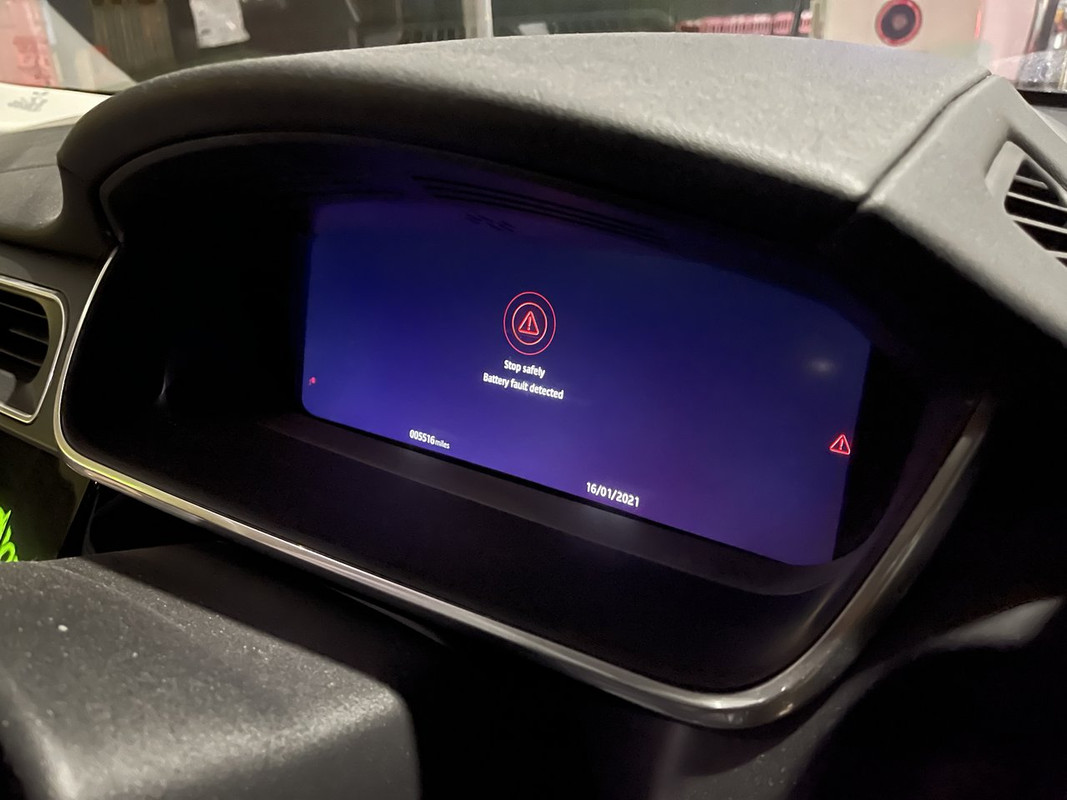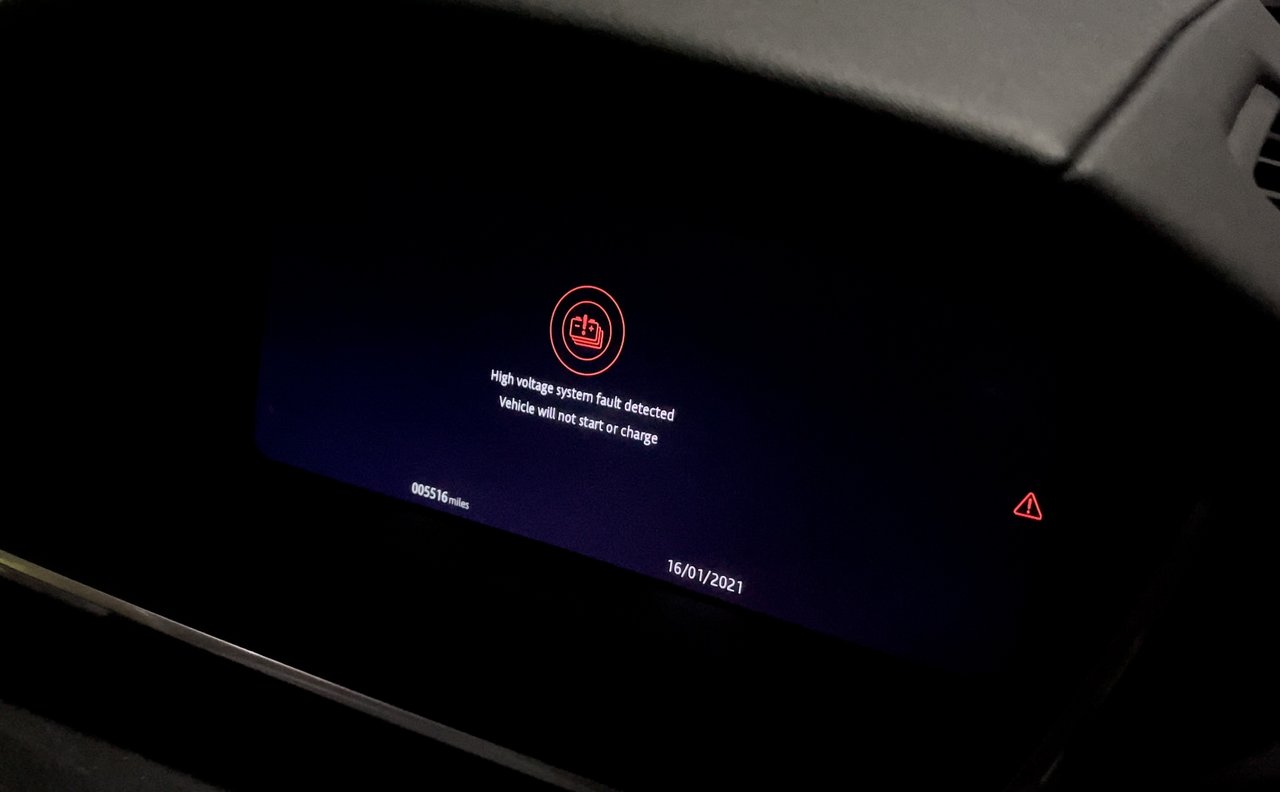 The car being dead, I called Jaguar assistance, who dispatched AA unit to my location; he called me to say he was en route.
While waiting, the car ceased to give the error message and appeared to be fine. I was 18%, 36mile range. Home was 55 miles and, as expected, the guessometer range:actual-miles-covered ratio had been much worse on the un-preconditioned, fully-laden return leg, so no chance of getting back without a successful charge.
The car was driving fine in the car park so I called the AA man back and asked if he could meet me at the Instavolt unit. He was happy to do this.
At the Instavolt charger, all seemed well, as with Ecotrishitty, until charging cut out having delivered no charge. We tried both units.
I noticed the car was didplaying "Timed charging" on the dash, so I cancelled this option in the in-car menu and in the app, but the problem persisted (no charge and "timed charging" on dash.)
The AA man admitted he didn't really know what to do and was happy to check the TCU battery, which was fine, and connecting a booster battery didn't change the MyPace app displayed voltage significantly, nor solve the problem.)
The AA diagnostics unit did reveal a temporary error in the log, but no current issue. He reset the fault log (?) with a view to retrying a charge but now the chargers were declining my card. I tried a different card which was reported as "incompatible".
I hadn't received a text from my bank saying that the card was blocked due to suspicious, multiple transactions, so I rang them. 30mins in a queue while the AA man rang Instavolt as the sign by the chargers said you could pay by phone (the American help centre said you can't, sorry, and the machines report no fault at their end.)
We hadn't managed to try charging after the reset of the car's error log, as my payment method was no longer being accepted by the charger.
The AA van man had kindly over stayed his shift and called-in for a recovery lorry. I received a call from the AA lorry driver to say he was en route.
While waiting, I finally got through to my bank. They said the card wasn't blocked but that the contactless option may have been disabled due to the multiple attempts to use it. They suggested going to any venue where I could use a cash machine or any card reader where PIN could be used with card.
I phoned the AA lorry driver, Martin, who agreed it might be worth trying a charge now that the error log was reset, and that he would meet me in a nearby Morrisons car park, where I could use a cash machine with PIN, then try a contact-less purchase at the service station.
This we did. However the car still wouldn't charge when we returned to Instavolt, despite payment approval.
So, car was loaded onto lorry and I was delivered home, having missed the Anniversary celebration by nearly 3hrs.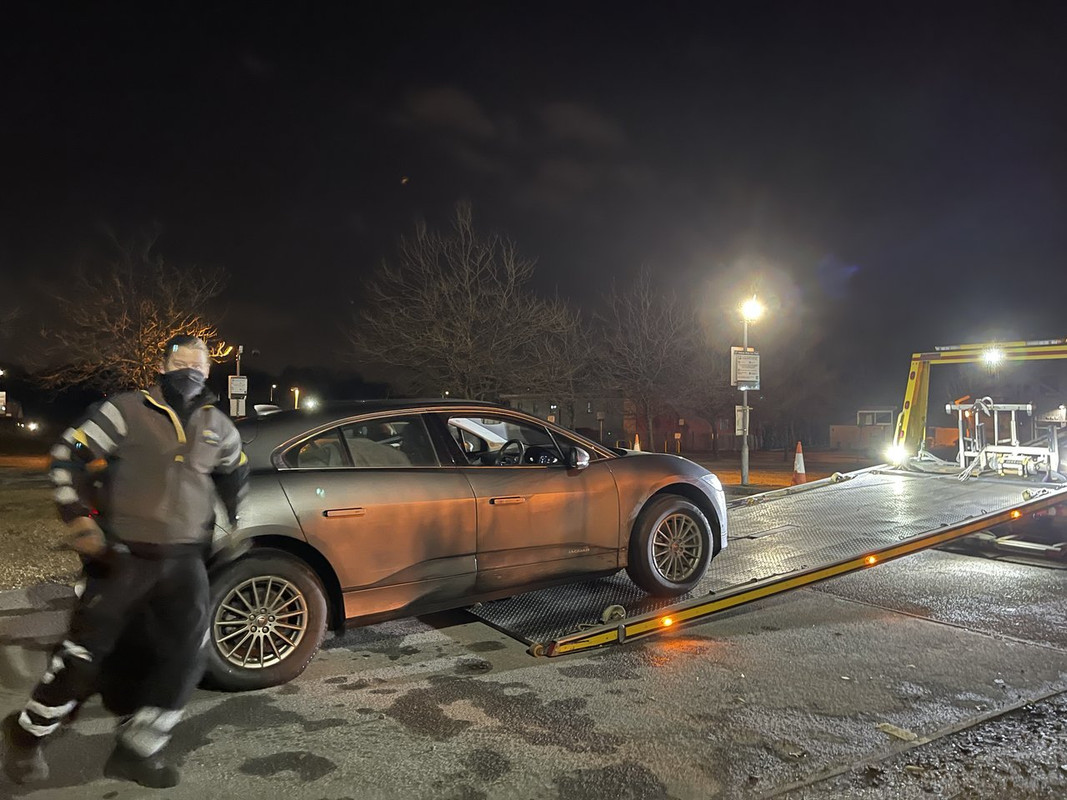 Interestingly, the car is charging off my Podpoint: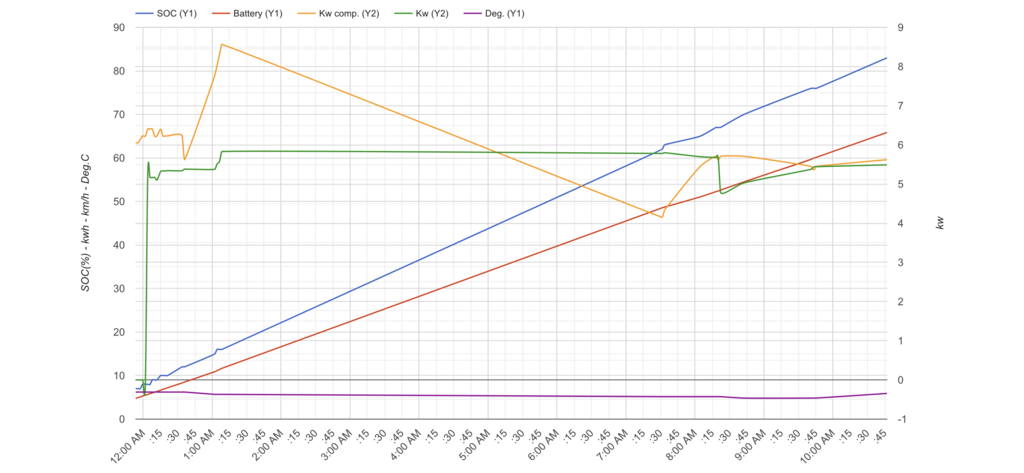 I presume therefore, that there is a problem with high-speed charging in the car, which I will take up with Jaguar.
Learning points for me:
-Ecotricity may be crap (first charger?) but it's not always them
-If there is a problem with one charger brand/supplier, the same problem may thwart you at other locations using the same brand (BP Pulse, on this occasion)
-Multiple failed attempts at using contact-less may lead to your card being blocked
-Multiple failed attempts at using contact-less may lead to your card having contactless payments deactivated, despite card remain usable in Chip-and-PIN units
-Instavolt signage says you can pay over the phone but the American support line (via UK number on sign) says you can't.
-JLR reputation for unreliability may be deserved.