Discussion Starter
·
#1
·
The BMW i8, now it's official and out there, is a sexy, hybrid, top of the line sports car.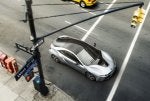 The BMW i3, once "Mega City" vehicle, is an electric car about town, with quirky design and a very strong "eco" message.
Do they sit well together, or does their juxtaposition in both style and function (with, admittedly, some common themes) just indicate this is FAR from a complete model line-up for the BMW i brand?