I've spent about a year now trying to get to the bottom of this, a few times I've managed to get auto heating mode with AC switched off.
Here is the way to set it up (Kudos to all the members on RZOC who tested my various iterations of this while I was trying to work out the hack).
1. Start car.
2. Dial desired temp and press auto
3. Press AC off and wait a minute.
4. Switch car off, lock up and go away for a while.
5. Go back to car, unlock, start car.
6. Press windscreen max and then press it again.
Once in place this hack will remain persistent on restarts, you can change temp but if you press any other heating buttons it will go back to normal and you'll need to follow above process again if you want auto with AC off.
It's the delay and locking the car that makes it work.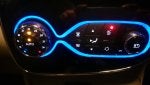 Reason to use this hack?
Well I think it perhaps heats up a little quicker and it uses a smidge less power over a trip. but that's just my gut feeling. why not try it yourself and report back.