Discussion Starter
·
#1
·
So after a bit of cajoling I finally managed to convince my girlfriend that we should take the Leaf to Brighton.It would, after all, save us at least 60 quid on fuel (to offset the £60 B&B).So on Thursday morning, about 1.5 hours later than planned, we set off. My original plan was the
straightforward M4-M25-M23/A23 route that we would normally take in her Skoda Octavia. Unfortunately there was quite a jump from the last Eco rapid at Reading services to Pease Pottage... and by all accounts, the Pease Pottage Rapid has been up and down like a YO-YO in the last few weeks; So we took the advice of another Leafer & opted for this route instead: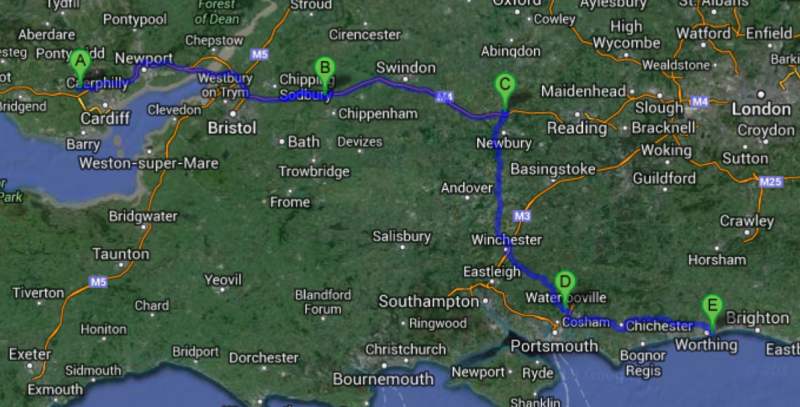 which would involve four charging stops:
Leigh Delamere East / West
Chieveley Services
WKB Nissan Waterlooville
Yeomans Nissan Worthing
giving us the following legs, inbound and outbound:
Home-Leigh Delamere: 60.8 miles
Leigh Delamere-Chieveley: 40.1 miles
Chieveley- WKB Nissan: 63.8 miles
WKB Nissan - Yeomans Nissan Worthing: 37.2 miles
We left the house nicely pre-heated & on 100%. The weather was good, sunny, clear & 8 degrees. I kept the cruise at 60 (70 if downhill) and did my best to use no more than three dots on the scale, which got us to the first stop with plenty to spare:
I knew the next leg was more of a sprint, so I stopped the charge at 80% & got a move on to the next stop - hovering 'around' 70mph - again, we arrived at that rapid with quite a bit left, hopefully minimizing the time we'd have to sit:
I was unfamiliar with the terrain on the next leg, so we waited the extra eons to get us up to 87%. Which was lucky, because we arrived at WKB Nissan with 9% (only the GF was in a mild state of panic!):
I'd like to give a shout out to WKB in Waterlooville: Their Rapid is available 24/7 & has no access restrictions - you don't even need an RFID card to use it!
the last leg was a sprint again, so we kept pace with the traffic - and the rush hour traffic jams - and arrived with 38%:
So that's 5.5 hours travel time. More than enough for me, and WAY more than enough for my GF, although our dog didn't seem too bothered - we let her out each time we stopped for a leg stretch & some water.The B&B was only 2.5 miles from Yeomans Nissan - we didn't really need the last stop (which was about 40 mins). And traffic on the A27 could count for 20 mins of the total time. But still, it was quite a drag.Which brings us to the first moral of this story, which is probably obvious: If you're taking your EV long distance, you absolutely need to make sure you're able to charge where you're staying overnight.I expected more for an EV driver in Brighton. Honestly, it was crap. I think they are just anti-car in general. And as for the type 2 charge posts in the NCP car parks? Yeah, you've probably already guessed: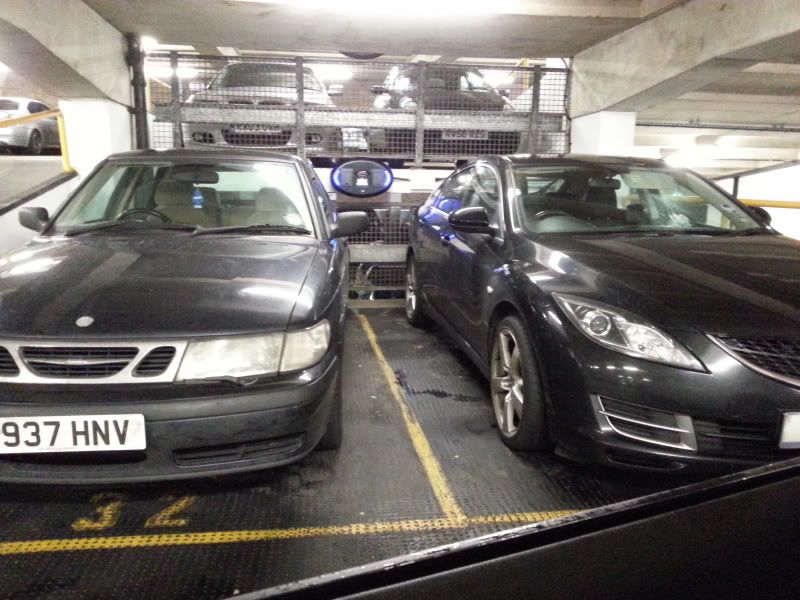 No signage. No Directions, no space markings. We wasted precious time and % trying to find these. That's the
last
time I'll bother looking for a chargemaster post in an NCP car park. It vexes me that my tax went to paying for this expensive LED wall ornament. Oh, and it was £8.10 for two hours! We didn't stop there, and found the Lanes car park instead.The journey back yesterday was... miserable. We left the Lanes underground car park (no charging facilities - again, well done 'green' Brighton) without enough charge left to get us to WKB in Waterlooville. So we had to call into Yeomans on the way home. The seafront road between Brighton and Worthing was a mess, partially flooded in places & littered with pebbles blasted up by the waves. We wasted over an hour travelling the 9 miles to the dealership, and another 30+ minutes charging. If we'd have been able to get a charge overnight or in the car park, perhaps we'd have been able to just jump on the A27 for WKB in Waterlooville!All the rapids we needed were free, unblocked and working perfectly, despite the weather, and we got home at 2020hrs - after leaving Brighton at 1315hrs. 7 hours 5 minutes. That has probably put the GF off ever doing a trip like that in the Leaf again. So even though I proved it was possible.... it was more a test of endurance than a demonstration of zero emissions technology.Still, we did it. For (almost) nil cost!So lessons learned:
on long distance trips away, ALWAYS pick accommodation that allows you to charge overnight
leave as early as possible (and check ahead).
Don't ever rely on charging at NCP car parks. The spaces will almost ALWAYS be ICE'd.