Discussion Starter
·
#1
·

Most Read & More






Thieves target EV charging cables
Thieves target EV charging cables
12/03/2021 in
Electric fleet news
electric fleet - charging and infrastructure






Was this article useful?
3 people found this useful
Company car drivers are being warned not to leave the charging cables for their electric or plug-in hybrid vehicles unsecured, as criminals are targeting the high-value items.
Waste removal company Divert.co.uk say that you shouldn't leave your electric charging cable outside your home unnecessarily, as scrap metal thieves have labelled them as must-have items.
"Car chargers are particularly appealing to thieves because they can be sold for up to £200 and they are selling them everywhere, eBay, Facebook, and to dodgy scrap dealers," said Mark Hall, founding director of Divert.co.uk. "And they can be pretty costly and inconvenient for you to replace, so it's best to keep it locked away from the crooks."
The copper in telephone cables and lead from church roofs are common targets for organised thieves and the metal in electric car chargers is becoming increasingly sought after by thieves looking to make quick money according to hall.
Hi everyone
Having seen this thread last night had a little think and the idea showed below may help it's not fool proof but I would think it might be a deterrent and useful when using public change points where you have to use you own type1/2 chademo or any type for that matter even a granny cable.
what you do is find the towing eye on the vehicle screw-in the eye bolt if needed get a padlock the one shown has an alarm in built into it, plug the cable into the vehicle pass the cable over the towing eye and fit the lock,
Hope this helps the type of lock used here would be very loud in a multi storey car park pictures below hope this idea might be of use to someone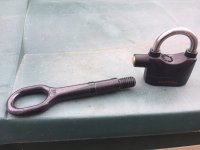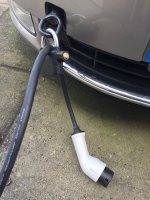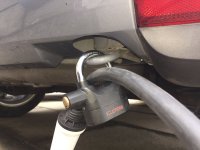 Les