Discussion Starter
•
#1
•
Hi. As a total noob, I'd like to ask the following:
1.
I know my driving profile pretty well. Is there a site where I can see what that translates to, in terms of recommended range for buying an EV?
2.
Is there a way of telling, by examining my installation, whether this would be an easier or harder home charger installation?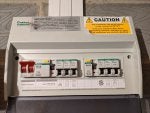 This is in my garage about 8 feet from where I think the box should sit on the front wall of the house (detached with driveway)
I'm wanting to get a first ever EV and would get one tomorrow if the right one was available and could be purchased, but know I'll need to wait many months.
Many thanks for any advice.