Hi to all
Just wondered if you bought the extra kit from your delaer ?
Here in Israel our dealer gave us the spare tyre kit and tools as a gift ,only people found out that they got the ICE kit and not the ev kit.
The problem is not the tyre it self but the rim's pcd.
If any one bought the kit can you check if you got the correct tyre and rim...
The caliper mesurements are in milimeteres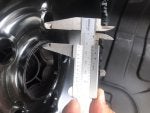 What does PCD mean?
The Pitch Circle Diameter (PCD) is the diameter of the circle which passes through the centre of all the studs, wheel bolts or wheel rim holes.