A couple of us enjoy camping - whether it is for one night, or for longer stays, one thing we will all agree on is that the ability to charge your EV whilst away from home will be an advantage.
Plugging in:
Campsites which have EHU (electric hook up) available, usually do so through a blue commando socket.
They often look like this:
They have the blue commando socket and usually an RCD switch.
Different campsites will supply different amounts of current (amps) to these sockets, overloading them will trip the RCD and is possibly dangerous. Common amperages used on campsites are: 6A, 10A, 13A and 16A. How many amps your charger uses should be in the documentation for your vehicle. The EVSE for the LEAF, for example, uses 10A.
To convert the commando plug to a regular 3 pin socket, an adaptor such as this can be used, they look something like this (
I got mine for £4.50 from GoOutdoors
):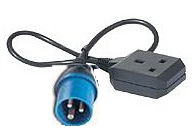 Plugging this into the EHU, and plugging the EVSE plug into the trailing socket will provide your car with power. I like to keep the 3 pin household connection inside a weatherproof box, such as the one below.
​
Charging and (nearly) ready to go: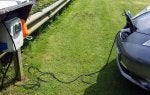 ​
Booking a campsite:
To us, EVs are common place - but many people don't know how they work. That's OK, because we do. When booking up a campsite, I believe part of being a courteous EV owner is to let the campsite owner know what you are trying to achieve.
Many owners know their campsites inside and out - they may place you where they know the EHU is newer, or rated higher or they may want to put you on a metered pitch.
One of the most common questions they will ask is how much electricity does it use, and yes, a full battery does sound like a lot of electricity (although I doubt anyone would do a
complete
charge - I am fond of not pushing my car onto site!).
So let's put this into easier to understand terms (for the campsite owner). Caravans. A caravan heater or AC unit alone will pull 2kW. Often, other things are used as well, chargers, pumps, lights, kettles, hairdriers etc... This means that charging a car should work out to about the same as having a caravan on site.
Be an ambassador for the EV community, and hopefully more and more campsites will be happy to oblige.
Some owners may still levy an extra charge.
Questions?
Be prepared to answer some questions at some point during your stay. EVs, although they have been around for a long time, are still new to a lot of people.
EV friendly campsites:
Here I hope to keep a table (or not a table depending on the text editor) of campsites which myself or other members have been to which has been happy to have an EV on site. I would prefer to only include those which have actually been stayed on, to provide some accuracy.
If you would like to contribute, please reply:
Campsite name:
Area:
Website:
Extra charge:
Campsite name:
Newberry Valley Park
Area:
Combe Martin, Devon
Website:
Here
Extra charge:
£3 per night (as of May 2015)
Campsite name:
Higher Bochym Caravan Club CL
Area:
Cornwall, Mullion
Website:
Higher Bochym Caravan Club CL
Extra charge:
£1