At long last I have some FREE stickers to give away.
These are the very first Speak EV stickers we've had printed, and I'd like to give away a few for free, on a first come, first served basis. However, there's a few rules and things to be aware of...
Please post below if you want a sticker and/or send me a direct message / private message on the forum
These are for EVs (PHEV, REx etc) only. No sticking them on your old diesels
If you ask for and receive a sticker you must post a photo of the sticker on your EV in this thread once applied to the car
If you asked earlier on my "would anyone be interested?" thread, you must ask here again to get your sticker
These are EXTERIOR vinyl stickers. I chose this for our first batch as the LEAF window tinting (and I assume others too) is too dark for an internal sticker to show through well
Supplies are very limited, but I'm not sure of an exact number as I'm using a few locally too
Postage is included UK, international deliveries please ask as it'd be cool to see them around the globe
If you're an early "yes please", please PM me the address you'd like them posted to.
I've had these on the car for a week, I cannot guarantee how long they last for, but they should be decent quality
Due to a change of mind I peeled and replaced one sticker after a day and it didn't present a problem, however Speak EV and myself cannot be responsible for any damage you may cause to your car. I have been told they are fine for paintwork, but I'd rather stick to glass, just to be sure.
In the future I will look to get more stickers, including interior options.
Here's some photos of our (rather dirty) LEAF modelling some stickers. They're about 22 cm across, so they fit in a standard envelope and aren't too massive on your car either.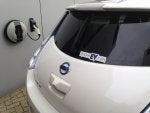 Look how much it can enhance ANY EV on the roads today...