2017 Renault Zoe (ZE40) Q90
Discussion Starter
·
#1
·
Dear GeniePoint Driver,​
Over the past few months, we've been working hard to make significant improvements to our network. From simplifying our prices and removing our connection fees, to starting the roll out of contactless charging, we're listening to you, our drivers, to ensure we offer the best charging experience possible.

We understand from driver feedback that needing to have money in your GeniePoint account and topping up by £10 each time is a frustration, which is why we've made it our mission over the last few months to update this feature.

We're pleased to inform you that as of the 30th September 2021, we will be making GeniePoint 'pay as you go', which means that when you charge with GeniePoint, you'll only pay for what you use. We'll no longer ask you to top-up to £10 when your balance falls to zero and we'll remove the auto top-up feature.​
No auto top-ups, no subscriptions – flexible electric vehicle charging.​
How will it work?
As a registered driver, when you use the GeniePoint app or a registered RFID access card to charge, we will simply deduct the price of your charge from your registered debit or credit card once you've completed your charging session. For example, if your vehicle consumes 10kWh in a charging session at a rate of 35p/kWh, once completed, your payment card will be charged £3.50.

What do I need to do?
There's nothing you need to do – we'll manage everything for you. If you have credit remaining on your account, this credit will be used on your next charging session(s) until the credit is used up. When you have used all of your account credit, your registered debit or credit card will be used to pay for charging sessions on a pay as you go basis.

Should I turn auto-top up off now?
There's no need to turn auto-top up off, as from the 30th September 2021, the auto top-up feature will automatically be switched off. Until then, you can continue to charge as usual with auto-top up enabled.

Will this change be effective across private scheme chargers?
There are a number of chargers supplied by GeniePoint that are owned privately. This change will be effective across all chargers – including private scheme chargers. For example, Revive Charging Network in Bristol.

Does this impact GeniePoint prices?
No – our prices will stay the same. No top ups, no connection fees. What's not to love?

Please note that before a charging session, we may conduct a pre-authorisation for £8. This is a reserve amount that is temporarily held on your payment card until the total fee payable for the charging session is processed. Please visit our website for further information on pre-authorisation.​
Some changes to our registered GeniePoint user terms and conditions.
We are making some changes to our registered GeniePoint user terms and conditions to reflect our move to 'pay as you go'.​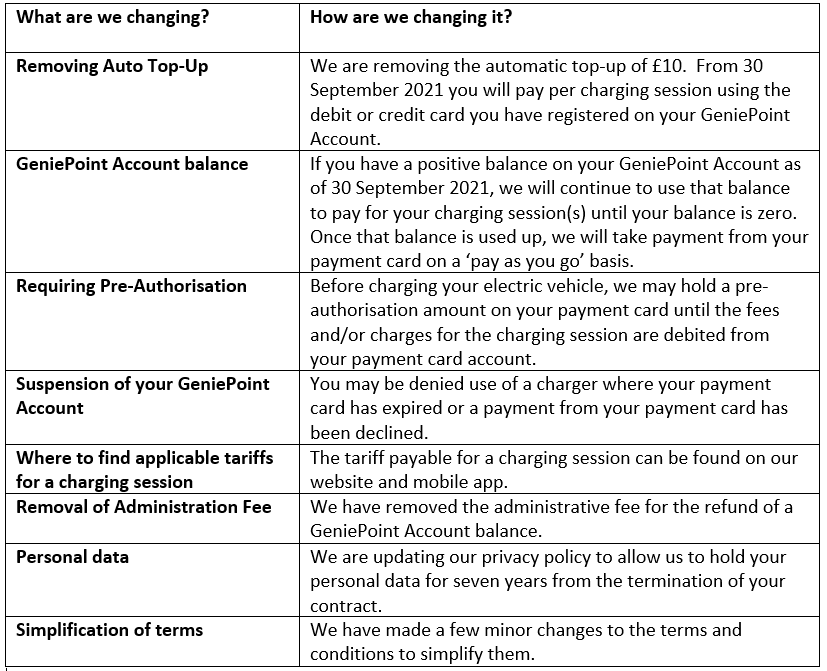 You can read the new terms and conditions at any time by visiting our website
Terms and Conditions | GeniePoint
. Please note, our current terms and conditions will be effective until 30th September 2021. If you do not wish to accept the revised terms, you can cancel the Contract for Services at any time by notifying us via email at
[email protected]
.
If you have credit in your account and would like this returned to you, then you can do so by emailing our customer service team and notifying us of the amount you wish to be refunded. To find out what your current balance is, open the GeniePoint app or web-app and select 'My Account'. Then, scroll down to 'Account and Balance' to view your current balance.
To request any credit to be returned, please email us at:
[email protected]
. Please state 'Credit Refund' as the email subject line and within the email, include your full name and the amount you wish to be returned (either the full amount or a partial amount). Any requests will be actioned after 30th September 2021, and we will return up to the full balance on your account at the time of processing the request. We will strive to process any requests within 28 days.
If you have any questions about the above changes, as always, our customer service team are available 24/7 by email or phone:
[email protected]
020 3598 4087
Thank you for being a GeniePoint Network customer.
Yours faithfully,
The GeniePoint Network Team​