Discussion Starter
·
#1
·
I thought I'd give you all a blog of my recent holiday with the leaf - apologies if I waffle on too much but I do love typing reports like these, you have been warned!
Its around 65 miles from Stockon over to near Penrith, Whinfell Forest Centre Parcs to be exact. As the Leaf is our only car this presented us with the first real prospect being potentially stranded (at destination) should we not be able to get a charge there.
I have been planning this trip for a while and thinking about how I would get back, as it turns out even getting there was more power intensive than I expected!
I didn't think about the car boot being fully loaded, wife, mother in law and 2 yr old child all piled in! Thankfully I had some backups in place should power run low before the 1000+ ft climb over the A66 towards Penrith.
So firstly - getting there..
Heading over from Stockton, past Darlington and down the A1 battery was good at around 80% + so I decided to give the Scotch corner rapid a miss and carry on, thinking if I hit the climb with at least 60% remaining I would easily make it to Whinfell. As we stared along the A66 I began to wonder if I should charge at the CYC rapid at The Morritt. I'd not actually been here before so decided to take a look and was thinking I'd just give it a 10 min blast to just be on the safe side. I was aware this was one of the CYC rapids that charges on time at something like 25p a min so didn't really plan on leaving it plugged in too long.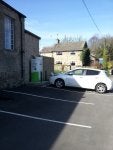 We all took a walk and I lost track of time, this happens with a 2 yr old! Anyway 29 mins later and I'm stopping the charger, battery is at a healthy 92% so I was pretty pleased. Little did I know this had just cost me £7.25! But to be honest it's in a really convenient location in a fairly remote area so I'd be happy to pay to use it if I really needed it.
The climb over the A66 took a nice 25% chunk out of my battery, I wanted to try and be as efficient as possible but sometimes going too slowly is more dangerous for other road users so I kept to a fairly reasonable 50 - 55mph. Going back down felt nicer, regen and a smug feeling that you get when a plan comes together, with only around 25 miles to go I was sat behind a truck going 45 on the single carriageways so ideal!
Got to Whinfell with 44% I was most pleased.
Now Centre Parcs is always harking on about how environmentally friendly they are, but their attitude towards people with EV's just stinks. My wife had already contacted the park directly to ask if we would be able to maybe use their dedicated charge points, the reason I know they have some is because they use a fleet of Renault Kangoos (more on those later). So they must have somewhere to charge them right!? Well the response was a very odd one "we don't supply fuel for petrol cars so why should we supply charge points for electric cars" but this is the best bit! my wife asked if we would be ok plugging in at the villa to which they responded that would be "fine" So I got myself a 25M 13A rated extension from B&Q and away we went.
For anyone who's not been to Centre Parcs - you can only drive within the park during unloading on Monday evenings and Friday mornings to load up again. So Monday afternoon came, drove to the villa which thankfully had a little space directly outside, out came the extension cable and I plugged in. I kept close watch on the plug in the socket as it was quite warm after about 20 mins, 3 hours later it was still the same warmth so I stopped worrying about burning the villa down - charge finished charging about 11pm, I silently drove the car back to the car park, windows open listening to Tawney owls calling around the forest, it was pretty cool.
What I find funny is that Centre Parcs have no interest in helping out EV drivers - when my wife contacted them they even said this isn't the first time they've been asked! They literally have power all over the place in that park so it wouldn't be that hard to provide some 32A or even 16A solutions to keep their guests happy. I should have told my wife to mention ZCW !
So we spend the week there in lovely sunshine doing all the usual things you do at CP - I also went Kangoo hunting, its great when one goes past as you are walking around, totally silent. I didn't realize how big these things are, they have quite a few of them as well so the collective fleet between all the parks must be quite massive. I had a peek of the charge port - I was expecting type 2 so was surprised by the J1772, shame there is no rapid port but I guess in this scenario is really isn't needed.
Getting back home we left with 97% - lost a few percentage taking the car back to the car park on Monday night and loading again on Friday. There must be more downhill than up going back as range was much better, I was able to travel faster and got to Scotch Corner with over 40% left, I plugged it in for 10 mins, popped to the loo and off we went again with about 60%. We got home with about 35% spare after dropping the mother in law off (yay!).
Overall a great trip if somewhat awkward but a nice learning curve in how I can expect my Leaf to perform under high load and also travelling up huge hills!