Discussion Starter
•
#1
•
350mile round trip in the iPace today. It was a stiff test of the Jag, which made the best of a bad deal:
The good
:
-Easy and quick charges at the 150kW/Hr machine at BP Chargemaster HQ for both legs of journey: I started on the 50kW/h unit until an employee moved his e-Niro for me. He explained I'd not see more than 75kW/Hr as the unit needed a firmware upgrade (I'm a Polar member, having taken up the 3 months "free" offer; this seems to mean this unit is free to use at the moment). Obviously the iPace is unlikely to get near 100kW/h anyway.
-Hidden bonus: excellent blackberries along a permissive path by charger.
-Scorchio weather (though a couple of greasy showers).
-Great roads and scenery
-Car is effortless to drive swiftly and safely: exiting corners it just digs-in and goes. Overtaking achieved with simple titration of accelerator/regen (almost like a sportsbike)
-Steering feels direct and hides the weight of the car with quick and accurate turn-in (for such a lump with squadgy tyres)
-Base level seats ("S" model) continue to be comfortable
-Remote climate control/condition is great when it's 34degC (according to the car)
The bad:
-Two road closures which sat Nav didn't know about and on the way there, Worcester ring road had roadworks all the way round. Accordingly I went a different way back: more roadworks, clogged by people trying to avoid ring road, presumably.
-V slow roadworks at heads-of-valley road, worsened by broken down farm vehicle and a rear-end accident in single-lane contra-flow!
-Car fire on A465
-Loads of combine harvesters and bale-towing tractors due to sunshine with storms forecast.
-Lane assist can be annoying on narrower roads (especially if no/poor nearside markings), roadworks where cones direct you across lanes or when lanes merge/split
-Several times I had the opportunity to explore the limit of the car's normally-impeccable handling (happily that limit is not somewhere I intend to spend time but it's good to know its character): becomes slightly wallowy and wayward over mid-corner bumps and undulations (NB: Base-spec "S" with no extras, 18" wheels). I did not notice any intrusive corrections by "nanny" in the dry (the showers produced some diminished adhesion areas where it was easy to provoke a response, though I could not tell what was being done.)
Gratuitous pics for ZapMap check-in:
Faster-charger in the background, to which I moved when an employee freed-it-up.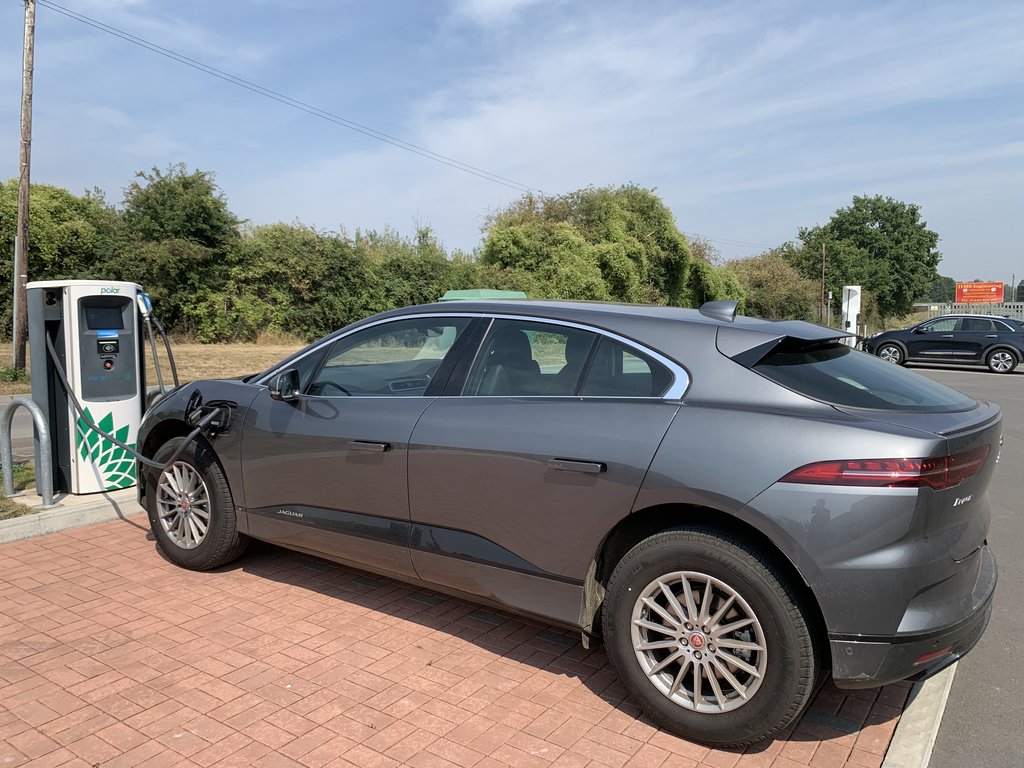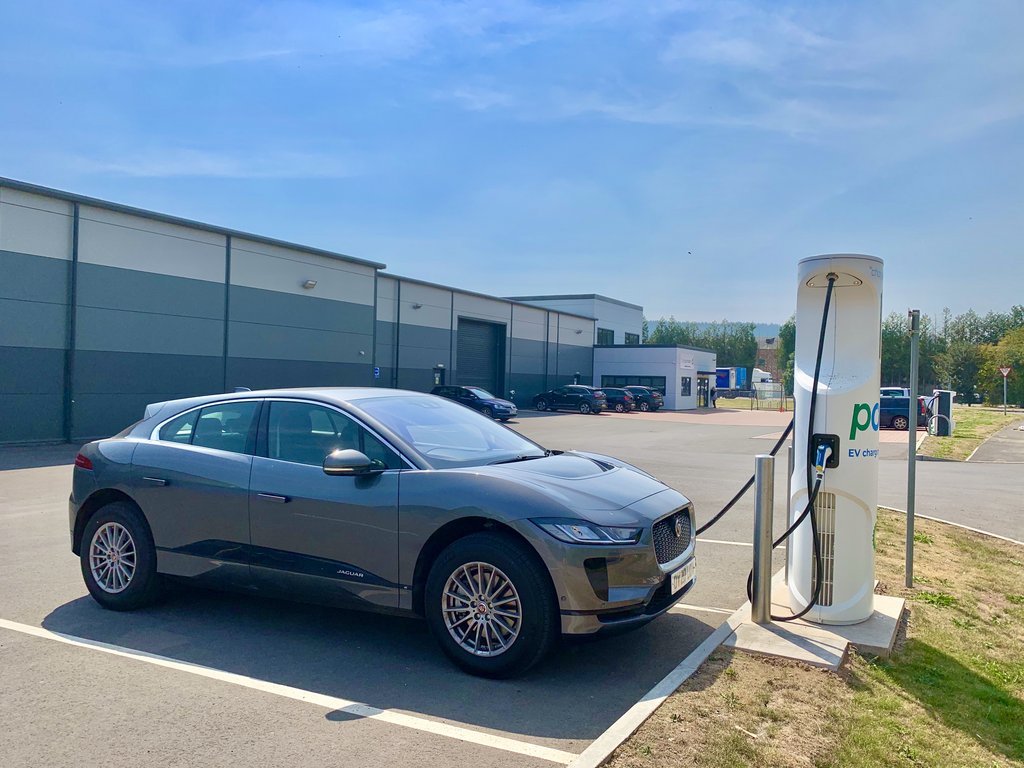 Loving the car and the EV "experience".
So far the DC charging has not been an issue (with the exception of the BP/Polar app, solved with RFID card).
Last week I drove from West Wales to South Devon (and back) with 2 adults+3 teenagers, one of whom is 6'5", and luggage. All were surprised with the comfort as we would normally take an Alhambra 7 seater or aging Merc ML350 (which the Jag replaced) for such a trip.
This weekend I'll be off the beaten track: into the Cambrian mountains, where I would previously have taken the Merc 4x4. It's certainly not off-roading, as such, but unsealed/tarmac'd tracks which will get slippery and muddy if the storms are as bad as forecast. Hopefully the Land Rover DNA will rise to the occasion...
...without the JLR reliability issues