·
evezy referral code d6540
Discussion Starter
•
#1
•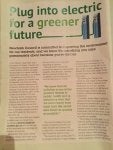 Just read this article in the council magasine that all households in the borough receive. 80 charge points will be installed this year. I took them up on their invitation to request a charge point near where I live. There are four bevs and one phev within a ten minute walk from my house so I'm hoping at least one charge point will be installed near me.
The article doesn't state which provider has been chosen. I'm hoping that it's not Source London as they charge by the minute and not the kWh. This works in central London where parking is very expensive but not in the outer boroughs where parking is cheaper or often free. The neighbouring borough of Barking and Dagenham have partnered with Source London who have installed sets of three charging points around the borough. I have as yet not seen any of them being used.
Hoping my council go with chargemaster as polar membership is included in my subscription with evezy. If there are any per kWh charges, evezy pay them as well. According to the article, the council are in talks with Transport for London to provide a rapid charging network across the borough as well. This should encourage ev ownership especially as the borough will be in the Ultra Low Emission Zone (ULEZ) from October 2020. Any petrol car not meeting Euro 4 standards and any diesel car not meeting Euro 6 standards will have to pay £12.50 every day that they are in the ULEZ.