Discussion Starter
·
#1
·
A nice man with a lorry turned up this evening, delivering my NHS Fleet Solution iPace S lease car.
No handover or paperwork (Covid precautions) but I had test driven one and read-up beforehand so was almost glad to be left to it.
Took the car for a spin to Rhossili for sunset; fantastically planted on the sinuous roads, even on the stodgy 18" wheels.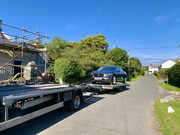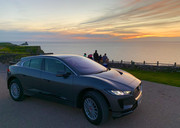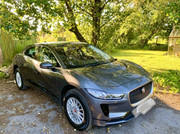 I have set-up the Remote app and it seems to be working.
Niggles so far (4hrs of ownership):
Infotainment has crashed once already. It restarted OK and stable since. Not as laggy as I had feared.
Neither key would lock the car for a while. Pressing "lock" merely caused a "bip" and flash but no locking and door handles remained deployed. I resorted to using the emergency key.
I then noticed in the app that it said the Froot was open, so I returned to the car, reshut the froot/frunk and the keys worked fine. This problem recurred once more but this time because the boot wasn't shut properly (manual only) so it seems a combination of user-error/finicky closure is the issue.
Podpoint charger doesn't charge (red light replaces the blue one after initial whirring noises from the unit.) I turned it off/on then rang podpoint as fault recurred.
They did a remote upgrade to solve a socket issue that the unit reported to them. This seemed to allow charging (green light on unit, car said charging) but at a very slow rate (app said 2% per hour).
After ten minutes the charger's light went red and charging stopped. Podpoint lines are now closed...
I have resorted to the Granny-cable, which seems to be working OK.
In summary: the car is a delight to drive, some minor niggles (resolved) but no 7kW charging at present (I bet the very long cable run from house to outbuildings is the issue, which I flagged to Podpoint prior to installation.)