Discussion Starter
·
#1
·
Hi
Just discovered that there has been a major water leak into the rear boot well. About half a buckets worth of water has collected under the accessory tray .
Well worth checking if you have a similar problem. This may explain one of the reasons for having to demist the car so often.
My car is kept outside so has been rained on a lot lately. I noticed a drip coming into the right hand rear side pocket in the boot this morning and the carpet was wet in the bottom of the side pocket.
I removed the floor and rear accessory tray to discover substantial amounts of (clean) water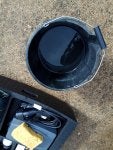 The car is booked on monday for investigation. Looking at the covers fitted near the rear lights inside the rear hatch I am not too impressed that they are water proof but this may not be the problem.
Anyone had this yet?