Discussion Starter
•
#1
•
I thought I'd start a thread for Leaf owners to refer to that shows available and most useful mods and additions to the Leaf.
To kick off, here are mine in order of importance (in my mind).
1) Strut covers. I purchased these from ebay here:
Main thread here:
Front strut top bearing failure
2) Dashcam. Here is mine: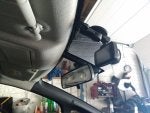 Here is how I wired it up:
I butchered a 2amp dual ciggie lighter usb adaptor and hard-wired it into the fuse box with a piggy-back tapping fuse adaptor. All wiring hidden within the door pillar and headlining. Be sure to buy a dashcam with a built-in GPS. This gives you a real-time speed readout and will record your speed on the video.
3) Wind deflectors, actually more like water deflectors! Keep your seats dry.
4) OBD2
This is not available where I got mine but they are still available elsewhere. It works well and auto-connects via btooth, no messing around trying to connect every time as some do.
5) Use an OBD2 extension cable to save the dodgy leaf 30 connector and stop knees from dislodging dongle.
6) Main beams. The originals are worse than pathetic.
Be absolutely sure you get the beam pattern right before venturing out
on the roads, do not slap them in and blind oncoming traffic.
7) DRL's and indicators/sidelights/number plate lights replace with LED's.
Reduce your power consumption slightly.