Discussion Starter
·
#1
·
Hi,
Taken the plunge on an EV, with a 2018 ZE40 to arrive at the end of the month. I live on a terraced house on a main road, residents parking in a bay across the pavement. Not reserved spaces, so can't always get a spot right in front of the house.
I am fortunate to live within a 10 minute walk of 3 22kw chargers in public car parks, currently with free electric supplied by the council, so only need to pay car park fees (which are free after 6pm and up to 8am) and a connection fee to the provider (chargemystreet x 1 and bp pulse x 2 - bp pulse would be "free" connection with a subscription). There are also 4 7kw chargers slightly nearer, on bp pulse that would be 16p/20p kwh, but these have a parking restriction of 3 hours at a time, so would only deliver a half charge on the battery.
The neighbouring town also has serval more points with similar arrangements, although zapmap suggests these ones are less reliable.
The car will be mostly be for commuting on country roads, doing about 175miles a week so I'm reckoning on needing 1 1/2 - 2 longer charges a week.
I have figured that the likelihood of them all being out of service at the same time is low, but not impossible. As we can't always park outside our house, and not wanting to risk a regular cable across the pavement, I'm considering a granny cable for emergencies (and possibly when travelling, though we will keep our existing petrol car). I'll buy a cable protector for it to reduce the trip risk. It would need to be a 10m cable to get from the socket, through the window and to the car, with a high footfall at times, and not living in the "nicest" area, I don't want to risk it being on an extension so it would be easy to disconnect and nick.
Trying to do research ahead of time, in case one should be needed in a hurry, I've come up with the two options below
EV Home Charging Cable | Type 2 to 3 Pin plug | 10 Amp | 5/10 Metre | Mode 2 |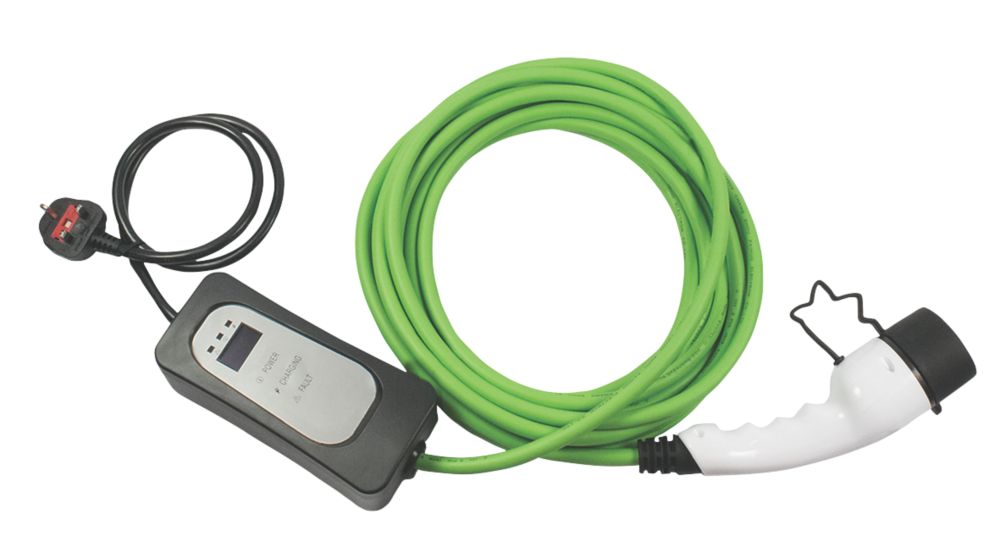 Order online at Screwfix.com. Portable Mode 2 charging cable. 13A UK plug socket to Type 2 EV charger. Ideal for charging from a standard plug socket. FREE next day delivery available, free collection in 5 minutes.
The top one seems to be Zoe Club recommended, but is significantly more expensive than the bottom one. The research I've done seems to suggest the Zoe can be fussy, but both these seem to have good reviews, and several mention using them without issue on Zoes. but would be interested in real world experience/recommendations.
Thanks for the advice - slightly nervous that it may be an inconvenience without being able to charge at home, but we seem to be very fortunate to have so many chargers locally, otherwise I wouldn't be considering getting an EV.