Discussion Starter
·
#1
·
Hi,
Push Button - get Tesla
Would be great to get some advice from you guys, I have been a lurker on these forums for a while. I think we will be pushing the button on a Tesla soon, the Jolltax clan and I went to Birmingham Tesla and went for a test drive in an 85D (I think) and were impressed. I must admit I never though I would own an American car as I have always thought they are generally unsuitable for our roads, ha!
My current car (an Audi A6 Allroad) is approaching 100k miles at which point I have always said i would replace it (no particular logic applied here, lol).
The model we selected was the 85D which, in the mean-time due to my slow decision-making, has been discontinued and has left me slightly adrift - 90D the obvious choice, if i bought the 70D would I end up regretting it? My current view would be to run the car for another arbitrary 100k miles and then evaluate again - this is about 6 years for us. It's all-electric design means that I am less concerned about mileage than I might be for an ICE car but I guess time will tell how well these cars last....
Here is my proposed spec :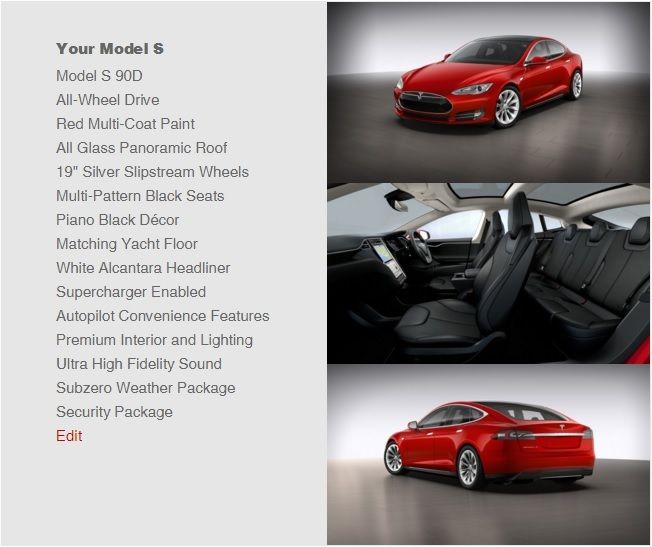 A few questions :
Could I use one of the discount codes I see being discussed here, are ex-stock cars offered at lower prices? The nearly-new options seem limited for our spec the prices are surprisingly high..
Any tips on the ordering process? It was suggested the best way to order would be by phoning in, as opposed via the website.
I would be interested in whether owners think I am missing any critical options or getting any which aren't worthwhile
We have a quite large hairy dog, our initial assessment is that he will fit in the back as it has a large hatch - have any of you experience with fitting large dogs in the back? We won't use the 3rd row of seats option, our 2 kids will do battle in the second row ....
We are pretty hard on our cars and not very "car-proud" i.e. we don't really wash or clean them much and live in the countryside where the roads are permanently muddy and the interior will be full of wet dog and muddy wellies - are they durable? Our Audi interior has stood up pretty well under the onslaught and we'll get rubber mats of course.
I am fairly fussy about audio and in the past have always upgraded the audio systems in my cars (the fully upgraded 'premium' audio system in my Audi is pretty awful) - how bearable is the standard system without the upgrade? Er, I know that a very subjective question, there must an audiophile or two out there
Grip on snow and mud is important to us due to a couple of bad experiences, how are the cars in the snow / ice. I run my Audi on winter tyres - will probably do the same with the Tesla as they seem to wear fine in the summer also
I have elected not to get the air suspension even though the adaptable and ride-height adjustable suspension on my Allroad is excellent and i am generally a fan. Am I right in saying the Tesla system is not adaptive? My reasoning here is, although excellent, I think air suspension is probably unnecessary complication and likely to introduce reliability issues as I plan to keep my car long-term.
We live nowhere near a Supercharger and the car will probably never see one - does that make dual chargers a redundant option?
A bit excited tbh ......... thanks in advance for any comments or thoughts
Wub u
Jolltax