Discussion Starter
•
#1
•
Since getting an iPace last week, my first EV, I have been charging with the Granny cable as my Podpoint doesn't work (see other thread: engineer coming tomorrow).
This has been OK to top-up so far since my most common commute is about 40miles a day.
However, I have a longer trip starting early this Saturday (5am) and since it is inflexible on timing I though I'd use spare time today for a tour of various DC rapid chargers I'm likely to use.
I was already aware of the flakiness of Ecotricity CCS charging, perhaps more so with the iPace, so I planned preferential use of Polar/BP Chargemaster and Shell (my route on Saturday will also try Instavolt, which sounds good)
I had registered the relevant apps, noting that the BP Chargemaster app migrated my account from Polar (Instant and Plus), for which I have registered as a "free" 3 month trial. I have no RFID cards (in the post still) but the apps claimed to negate these...
I tried three Polar/BP Chargemaster chargers, including a new-looking 150KwH near Newport, S Wales (not that the iPace can charge at that rate)
ZapMap suggested all were working but none of the three (CCS) worked with the app and the helpline could not fix remotely. The helpline did get Type2 charge going on my 3rd charger but at a lowly 2%/hr.
This is the screen the BP Chargemaster app always got stuck on: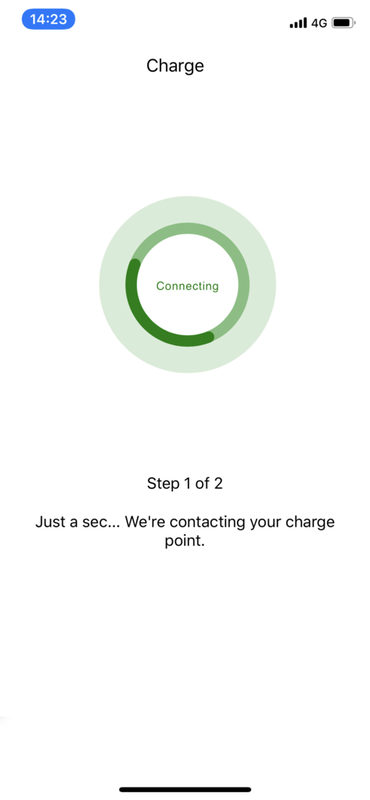 I logged these issues on ZapMap and shall have to retry once I have an RFID card, until they sort the apps.
The Shell charger was simplicity itself: contactless debit card worked, so I didn't try the app. The station was a bit cramped- will only charge one vehicle at a time at that site. Good rate of charge, considering I was starting at 75% just to test if it worked.
The surprise was that the easiest and fastest charges were courtesy of much-maligned Ecotricity/Electric Highway!
As a newbie, I've taken on board the message that they are unreliable. Granted, ZapMap had CCS as working at all 3 locations that I tried, but I was taking that with a pinch of salt.
Newbie observations:
-BP/Polar needs RFID card/fob despite new app that is meant to do away with this clutter
-Ecotricity worked today, at different sites, without any glitches
-Shell contact-less debit card worked well
-Newest 150kWH BP charger design was by a moron: v short cable so car has to be tight up against machine, blocking the small illegible screen (and cable hangs across awkwardly, so you have to lean round it to see if things are working, or walk round, away from plug.) The photo doesn't show the concrete step/plinth that is behind the post, adding to the obstacles blocking access to the display and controls. Why not put them on the side? I presume the short, stiff cable is because of the higher current for 150kWH rates.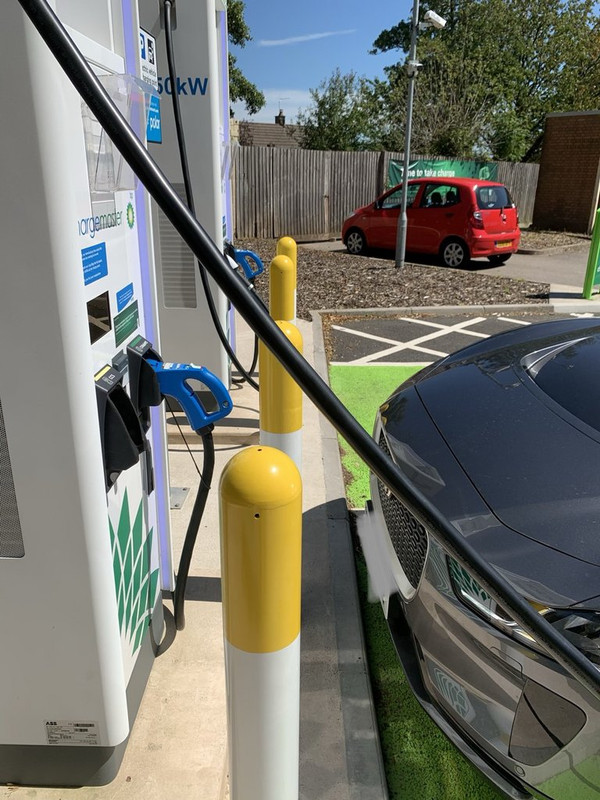 Negatives aside, I spent over 6hrs driving around and never felt short of somewhere to charge (though I enviously eyed the banks of functioning Tesla Supercharger at Sarn!) even without Polar/BP (there were lots of options but I gave up after 3, assuming that the same problem would occur with each.)
Hopefully the need for apps and RFID cards will become a thing of the past.