had my i3 in for the fuel pipe safety recall and it was all done while I waited, no problems there. interestingly though a note about brake pad wear and disk corrosion.
It said my pads (front) were down to 3mm and the disks were heavily corroded.
I checked the disks after some manual brake applications and I thought they came up pretty clean with no wear ridge and only slight grooving, possibly nothing to worry about there. perhaps it just looked bad with a cursory glance. The pads however a different matter, they were indeed worn down to 3mm and although the wear light has not come on yet, I would normally replace pads that looked as worn as they do. Rears looked fine and loads of pad material on them.
Interestingly I:
Don't allow the cruise control to brake for me down hills (I want that energy)
Almost never use the brake pedal (virtually all 1 pedal driving)
Very careful when the battery is full as I realise the car will apply the brakes, not regenerative until a few % is out of the battery.
Car is always kept garaged (allowed to dry outside first if wet) and is 3.5 years old
My mileage.....28,000 miles
, now my wife's heavy diesel needed pads (and they weren't as worn as the i3s) and disks at around 32,000 miles. So why should I be surprised? I guess because I thought with regenerative braking ad 1 pedal driving my brakes would last a lot longer than this....something like twice as long actually. Why I think this is because on my 11 year old 80,000 mile Honda insight (2000 year), my brakes were still fine and it also had regenerative braking, but not 1 pedal driving like the i3, the regen wasn't strong enough!
In fact I think it's fair to say I have never seen so much pad wear on any car I have ever owned at 28K miles. My driving style is economy and as if I have one of these pointed at my car.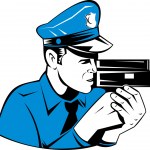 I am going to ask them for a quote to do just pads for the front and disks/pads, will post back on how much they want for the work.
Pricing including fitting (inc VAT with my discount):
Pads only for both front wheels (inc new wear sensors) £249
Pads and Disks £435.
It's 2.5 x what I would normally pay for disks and pads (after-market) to be fitted at a fitting centre and 60% more than main dealer prices for other makes of car. Probably normal for BMWs though.