Discussion Starter
•
#1
•
As some in our subforum will know I have fallen victim the the common SHVCS (Service High Voltage Charging System) problem, see the below thread for details, this one is a continuation.
Charge port rubber seal
After several problem free days, with no error codes and normal charging the error returned today. I'd charged to full this morning but the error was back this afternoon when I started the car to drive to the shops.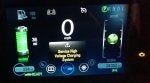 The codes were the same as before -
(P1E00 - turn on check engine light, generic).
P1FFF - Coolant level sensor fault - Hybrid/EV battery charging system disabled.
P1FFB - Open circuit level sensor.
Plus a new one - P1FFE - Hybrid Battery Pack Coolant Level Low. (see below)
I cleared them again whilst in the car park using Torque and drove home, without any recurrence, albeit a short drive of a few miles. When home I checked the coolant level which is exactly the same as usual, no change at all. Tonight or tomorrow morning I will try charging, normally I wouldn't as I only used a few miles range today, it was at 38 when fully charged.
From what I've read on gm-volt and as mentioned by
@donald
I ought not to be able to reset these DTCs, yet I was able to and to charge again as per normal for several days. Yesterday I checked for DTCs through Torque and there were none. Others on gm-volt also report they had been able to reset theirs successfully, with the DTCs either not returning at all, or returning after some days or even many weeks.
My (limited) observations are -
1. I don't think there are any latched codes as I am able to reset the DTCs so maybe the car's software has been updated to allow this, or maybe I am not getting any that cannot be reset.
2. The cause is intermittent. I have gone days without a recurrence, suggesting a faulty sensor or connection.
3. The new code P1FFE is only set "when the drive motor battery coolant level is 1.5 inches (38 mm) or more below the seam" (as per GM Service Bulletin No. PI0961A). As my coolant level is normal this code is in error, pointing to a faulty sensor.
The car is booked into Bellinger at Wantage for Wednesday PM where I've asked them to change the sensor and it's small wiring harness, plus reset any codes if I still have any, or any that may be hidden from Torque. They did say it's a small job they can do whilst I wait, I can see on here that at least one other Ampera owner has had this faulty sensor problem fixed by them and it will be interesting to see what they say about the problem.
In the meantime I am waiting for my 'Chevy Volt 2011-2015 SHVCS Defeat Plug' from Brock at canbustools.com to arrive. I ordered it on friday 17th and had notification that it was in the airmail to me within 2 hours, pretty fast turnaround!
Steve