This might be in the manual; but I haven't had a chance to finish reading yet (it's sooo long) so maybe someone can explain it quicker than I'll get to it...
Now and then I see this icon appear next to my speed on the Active Info Display (apologies for the poor picture, my wife took it from the passenger seat and didn't realize how bad it was until we got back)...
It's an outline of a foot with an error underneath it, as if it's telling you to lift off the pedal: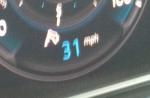 It seems to really randomly appear. When I noticed it just now, I was just driving normally and it came on. I think my foot was still on the accelerator, but the icon remained even when I lifted off and then started to brake. It disappeared around the time I came to a stop.
I've seen it a couple of times now, but can't figure out what it's supposed to be indicating. Any ideas?